October 02, 2017
Clinical Guidance: Evaluation and Treatment of Minor Burns
This article originally appeared
here.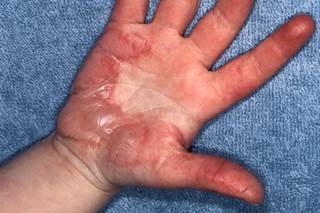 The most common causes of minor superficial burns are sunburns and minor thermal injuries.
Description
injury with necrosis of epidermis and dermis after thermal, chemical, electrical, or radiation exposure
Types
first-degree (epidermis only)
second-degree (through epidermis and into dermis)
third-degree (all layers of skin including subcutaneous fat)
Who is most affected
children and elderly patients
Possible risk factors
increased age
drug and/or alcohol abuse
photosensitizer medication use, including

amiodarone
chlorpromazine
hydrochlorothiazide
antibiotics (nalidixic acid, fluoroquinolone, doxycycline, tetracycline, voriconazole)naproxen
piroxicam
retinoids

for children < 5 years old, access to hot liquids without adult supervision
Causes
most common causes of superficial burns

sunburn
minor thermal injury

causes of thermal burns

scalds

in children

70% to 80% of burns
hot liquid, steam, spill, or immersion
warm air humidifier

in adults

hot food, water and steam in patients ≥ 65 years old
hot bath water

fire (flame or flash)

about 50% of adult burns
associated with trauma or inhalation injury

contact with hot surfaces

causes of chemical burns

acids
alkalis
petroleum products
phosphorous
airbags
hair dyes
fabric detergents

causes of radiation burns

sunburn
industrial electromagnetic and particle radiation

electrical burn

may be high voltage, low voltage, or flash
History
Chief concern (CC)
History of present illness (HPI)
assess risk for

concomitant injury
inhalation injury

if non-accidental injury suspected in a child, check for inconsistencies in histories
Medication history
ask about use of photosensitizing drugs
Physical
Skin
determine depth of burn
first-degree burn

tenderness
dry erythema without blisters
brisk capillary refill with pressure
brisk bleeding with 21-gauge needle pin prick

second-degree burn

superficial partial-thickness (second-degree) burn

tenderness
blanching with pressure
wet, weeping, erythematous skin
clear blisters
usually pink but may be white
brisk bleeding with 21-gauge needle pin prick

deep partial-thickness burn
no sensitivity to touch or dull sensation
white or fixed red coloration
non-blanching with pressure
blisters
delayed bleeding with 21-gauge needle pin prick
third-degree (full-thickness) burn

no sensitivity to touch
dark brown, tan, or white with leathery feel
may be charred and dry or hard and waxy
no blisters
no blanching with pressure, capillary refill
no bleeding with pin prick

estimate body surface area (BSA) affected for second- and third-degree burns

Lund-Browder chart of body surface

most accurate
estimated BSA

neck
trunk

anterior 13%
posterior 13%

upper arm

each posterior 2%
each anterior 2%

lower arm

each anterior 1.5%
each posterior 1.5%

each buttock 2.5%
genitalia 1%
foot

each top 1.75%
each bottom 1.75%

age-based variable percentages for

each half of head
each half of 1 thigh
each half of lower leg

Wallace rule of nines

fast estimate of medium to large burns in adults
estimated total BSA in adults

head 9%
anterior trunk 18%
posterior trunk 18%
each upper extremity 9%
each lower extremity 18%
genitalia 1%

palmar surface measurement

assumes palmar surface of patient's hand is about 0.8% of total BSA for adults and about 1% of total BSA for children
useful for estimation of

small burns (< 15% total BSA
small unburned areas in cases of major burn (> 85% total BSA)

inaccurate for medium sized burn
Making the diagnosis
clinical diagnosis with history of exposure and findings of injured or necrotic skin
criteria for minor burns

first-degree burns
second-degree burns affecting

5% of total BSA in patients < 10 years old or > 50 years old
10% of total BSA in patients aged 10 to 50 years

third-degree burns < 1% of total BSA
for second- and third-degree burns

no involvement of face, hands, perineum, genitals, or feet
no crossing of a major joint
not circumferential

no concomitant injury or severe trauma
no comorbidity
Differential diagnosis
phytocontact dermatitis
other mimics

leukemia cutis
toxic epidermal necrolysis
pressure necrosis
Testing overview
no additional testing required
Treatment overview
for first-degree (superficial) burns

moist environments
topical agents and dressings
comparative efficacy

studies generally of poor quality
insufficient evidence to determine superiority of any single burn dressing

for treatment of second-degree (partial-thickness) burns

indications for referral to burns specialist

unlikely to heal within 3 weeks (deep partial-thickness or full-thickness )
partial-thickness burns > 10% of total BSA or > 5% in children < 16 years old
worsening over first 72 hours (increased depth or signs of infection)
not healed within 2 weeks

consider blister management and debridement

no consensus and limited clinical evidence for management
suggestions for blister management for partial-thickness burns

leave intact if

blisters < 6 mm
larger blisters on palms or soles not restricting movement

debride if

blisters > 6 mm
prevent joint movement or likely to rupture

keep debrided wound moist with topical dressing

use occlusive dressing or topical agent

non-silver dressings

insufficient evidence to support superiority of any type for superficial and partial-thickness burns
associated with faster healing times compared to silver sulfadiazine

silver sulfadiazine in cream or dressing associated with higher rates of infections in burns compared to other dressings

pain control as needed,
tetanus booster if > first-degree burn
if non-accidental injury suspected in a child, immediately notify social services
refer to burns specialist or reconstructive surgeon if

significant scarring
any contracture
Complications
infection
hypo or hyperpigmentation
respiratory-related hospital admission
Prognosis
usual time to healing

superficial burn, about 3 to 10 days
superficial partial-thickness burn, about 2 weeks
deep partial-thickness burn, ≥ 3 weeks
Prevention
evidence-based prevention strategies

in infants and children

properly installed and maintained smoke detectors
water heater temperature preset to < 130° F (54.4° C)
clinical counseling to increase smoke detector use

for sunburn

SPF 40 sunscreen more effective than SPF 12
topical aloe vera cream likely not effective
Dr. Drabkin is a senior clinical writer for DynaMed (www.ebscohost. com/dynamed), a database of comprehensive updated summaries covering more than 3,200 clinical topics, and assistant clinical professor of population medicine at Harvard Medical School.