September 07, 2018
Pediatric Vitiligo: Look Beyond the Skin for Complete Treatment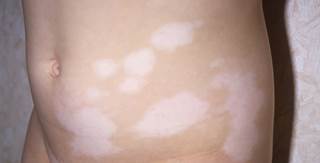 What is commonly thought of as a superficial skin disease may have autoimmune etiology that deserves to be examined further.
While approximately half of early-onset vitiligo occurs in people younger than 20, there are no treatments specifically indicated for the pediatric population.1 This is especially troubling for a disease with an estimated global prevalence of 0.4% to 2% that can have a considerable adverse effect on the psychosocial health of developing children and young adults.2
In children, vitiligo is thought to be an autoimmune disorder, with associations of atopy and halo nevi.2 Other autoimmune-vitiligo connections include alopecia areata, Hashimoto thyroiditis, pernicious anemia, and type 1 diabetes.3 Postpubertal cases have been linked with thyroid disorders and acrofacial disease.2
"Addressing the generalized autoimmune tendency by early diagnosis and intervention of comorbidities may aid in the patient's long-term health," advised Nanette Silverberg, MD, clinical professor of dermatology and pediatrics at the Icahn School of Medicine at Mount Sinai in New York City, in an interview with Dermatology Advisor. "In the future, therapeutics that include targeted immune modulators may benefit the vitiligo patient."
The disease is typically classified into two categories: segmental vitiligo (SV) and nonsegmental vitiligo (NSV), which occurs in up to 80% of all cases.4 While vitiligo can manifest anywhere on the body, NSV usually appears as white macules on the fingers, hands, and face.4 SV, occurring in 10% to 15% of all cases, is characterized by asymmetrical banding.4 Pediatric dermatologists recommend examining patients with a Wood's lamp and natural light to determine the extent of the disease and using the Vitiligo European Task Force questionnaire to capture the patient's family history.4
Stabilizing and Repigmenting the Skin
Treatment for vitiligo is based on its location and type.2 For example, SV does not typically require treatment unless the patient has a comorbid autoimmune disorder.4 Children with NSV, however, should have a complete blood count, metabolic profile, screens for thyroid function (thyrotropin), and antibodies (anti-thyroid peroxidase and antithyroglobulin) to determine the presence of thyroid disease.4 In patients who are candidates for phototherapy, antinuclear antibody (ANA) screening may identify patients who may be sensitized to light.4
While there are no drugs specifically indicated for vitiligo, it does not mean the disease cannot be treated.2 "Overcoming this barrier is needed to get patients care in a timely fashion as response to topical therapies is best in the first few years and in particular, response of segmental vitiligo to 308-nm laser is best before 6 months," said Dr Silverberg.
Depending on the status of vitiligo, clinicians can employ one of two strategies: stabilization to prevent further spread or repigmenting the affected areas.3 Children who still have active disease and whose macules are trichrome and inflamed around the margins need to be stabilized.3
Methotrexate, azathioprine and systemic corticosteroids, prednisolone, dexamethasone, and betamethasone have demonstrated efficacy in slowing disease progression.3 Sunlight may lead to spontaneous repigmentation in children.3 Skin surfaces that endure frequent friction, such as the hands and fingers, however, may not have as robust a response.3 Phototherapy is one of the few modalities that has the potential to both stabilize and repigment the skin.3
In certain types of pediatric vitiligo, the earlier the treatment, the likelier the success of repigmentation.2 "Vitiligo in all age groups of children can be remitted and repigmented," said Dr Silverberg. "Topical therapies are appropriate to localized disease or focal therapy of a few target sites, but phototherapy is ideal in widespread disease or spreading lesions."
Topical calcineurin inhibitors are first-line therapy for the head and neck, while topical corticosteroids can be used on the rest of the body. For larger areas, clinicians can employ narrowband ultraviolet B light therapy, noting that phototherapy is more effective in patients with darker skin.2,4 It's important to consider patient age when considering phototherapy, as patients need to remain immobile for frequent treatments.2
While most therapies are topical or involve light, either UVB or natural, systemic vitamin B-complex and D supplements may compensate for the vitamin deficiencies found in children with vitiligo.4 In children with stable SV, skin grafting may be an option.4 In addition, patients with either type of vitiligo may benefit from camouflage or heavy makeup to disguise the depigmented areas.4
"Vitiligo is not a mere cosmetic disease. It can have significant social ramifications and stigma, so it should be treated," said dermatologist Davinder Parsad, MD, from the Post Graduate Institute of Medical Education and Research in Chandigarh, India.
Pediatric vitiligo can induce stress not only in the patient, but also in their caregivers. It is imperative that treating clinicians recognize the psychosocial burden of the disease and provide resources and referrals for therapy or support groups as appropriate.1
Cadmus and colleagues reviewed the pediatric vitiligo literature to identify best practices for clinicians managing the quality of life (QOL) measures that affect pediatric patients with vitiligo.1 Camouflage, for example, is one such measure that improved children's QOL scores while they were undergoing repigmenting treatment.1 Although camouflage is a temporary solution, permanent options such as medical tattooing, skin staining, and bleaching solutions have not been studied in children.1
Psychotherapy is another adjunctive modality that can help reduce children's distress with the disease.1 Cognitive behavioral therapy has particularly shown promise in improving children's QOL by encouraging stress-reducing practices and avoiding distressing situations. Because current vitiligo treatment is not necessarily curative, children who undergo therapy may be better able to withstand the anxiety and depression that often accompany the disease into adulthood.1
"Not only should [clinicians] provide treatment early when the disease is most responsive, but they should also direct patients to support groups and consider referral for counseling or psychiatric services," said lead investigator Simi D. Cadmus, MS, from the School of Medicine and the University of North Carolina in Chapel Hill. "In children, it is especially important that mental health is addressed early because this affects their overall development and growth."
References
1. Cadmus SD, Lundgren AD, Ahmed AM. Therapeutic interventions to lessen the psychosocial effect of vitiligo in children: a review. Pediatr Dermatol. 2018;35(4):441-447.
2. Van Driessche F, Silverberg N. Current management of pediatric vitiligo. Paediatr Drugs. 2015;17(4):303-313.
3. Bishnoi A, Parsad D. Clinical and molecular aspects of vitiligo treatments. Int J Mol Sci. 2018;19(5).
4. Ezzedine K, Silverberg N. A practical approach to the diagnosis and treatment of vitiligo in children. Pediatrics. 2016;138(1).