April 11, 2018
Skin Hypersensitivity in Infants Decreased With Yogurt Consumption
This article originally appeared
here.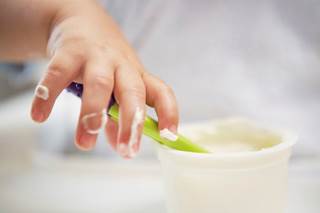 Perinatal and postnatal probiotic consumption has been shown to reduce skin hypersensitivity in infants, although the mechanisms remain unclear.
ORLANDO — Infants who consume yogurt daily may experience a decrease in skin hypersensitivity, according to data presented at the 2018 Joint Congress of the American Academy of Allergy, Asthma & Immunology and World Allergy Organization (AAAAI/WAO), held March 2-5, 2018, in Orlando, Florida.
Miwa Shinohara, MD, PhD, from the Department of Pediatrics at the Ehime University Hospital in Toon, Japan, and Kenji Matsumoto, MD, PhD, from the National Research Institute for Child Health and Development in Tokyo, Japan, conducted a cross-sectional investigation to assess the association between perinatal and postnatal yogurt intake and hypersensitivity to histamine.
Study volunteers consisted of 256 mother-infant pairs. Eligible infants were aged ≥6 months and were administered a skin prick test with 1 mg/mL histamine. Swelling sizes were measured 15 minutes after administration.
Significantly larger swelling sizes were reported in infants with eczema or atopic dermatitis compared with those without. In those infants without eczema or atopic dermatitis, the swelling sizes were significantly reduced in the cohort that consumed yogurt daily compared with infants without eczema or atopic dermatitis who did not consume yogurt.
No associations were reported in perinatal consumption of yogurt and swelling size of the skin prick test in either mothers or infants.
"Daily yogurt consumption may reduce skin hypersensitivity to histamine and thereby reduce the risk [for] atopic dermatitis during infancy," reported the authors. "The role of probiotics/yogurt consumption in the regulation of skin hypersensitivity to histamine warrants further study."
Reference
Shinohara M, Matsumoto K. Daily yogurt consumption in infancy is associated with reduced skin hypersensitivity. Presented at the 2018 American Academy of Allergy, Asthma & Immunology/World Allergy Organization Joint Congress; March 2-5, 2018; Orlando, FL. Abstract 434.