February 06, 2018
Surgical Scar Perception Often Differs Between Patient, Clinician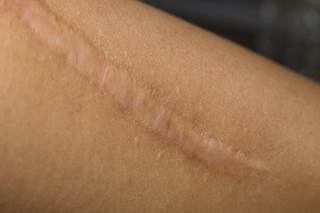 Researchers identified disagreement between patient and physician evaluation of scars in 8 of 29 studies.
HealthDay News — Patients and physicians disagree about evaluation of surgical scars, according to a review published online in JAMA Facial Plastic Surgery.
Junqian Zhang, MD, from the University of Pennsylvania in Philadelphia, and colleagues conducted a literature review and analyzed studies comparing scars from different surgical techniques using at least 1 physician-reported and patient-reported scar measure.
Twenty-nine studies with 4485 patients were identified, of which 20 were randomized clinical trials, 5 were prospective nonrandomized studies, and 4 were descriptive studies.
The researchers identified disagreement between patients and physician evaluation of scars in 8 of the studies (28%), with only patients rating scar difference in 6 of these cases (75%). Physicians were more likely to value scar pigmentation and relief, while patients were more likely to value scar depth.
"Studies that incorporate subjective and objective scar grading reveal disagreement between patients and clinicians," the authors write. "Of the incision and wound closure techniques assessed, few affected patient- and clinician-reported outcomes, but the evidence remains weak and future studies are recommended."
Reference
Zhang J, Miller CJ, O'Malley V, et al. Patient and physician assessment of surgical scars [published online February 1, 2018]. JAMA Facial Plast Surg. doi: 10.1001/jamafacial.2017.2314