October 16, 2018
Liposuction: Reducing Complications As Well As Fat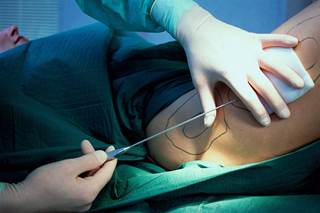 Although thought of as a minor procedure, liposuction can have severe adverse effects, including death.
Liposuction is one of the most popular cosmetic surgical procedures worldwide, so it is no surprise that complications from the procedure are not uncommon.1,2 While most patients who elect to undergo liposuction are ostensibly healthy, a thorough preoperative counseling session and examination are still necessary.1
Even one of the safest procedures — tumescent liposuction — can result in local and systemic complications such as infection, hematoma, nerve impairment, and skin irregularities if clinicians and patients are not vigilant.1 Liposuction complications, mostly minor, occur in approximately 5% of cases.2 Complication rates tend to be higher in hospital vs outpatient liposuction procedures (0.11% vs 0.04%, respectively).1
"Hospitals, as opposed to ambulatory clinics, typically perform large-scale liposuction (over 5 L[iters]) that requires general anesthesia," said Paraskevi Briassouli, PhD, from the Sadick Dermatology Group in New York City. "General anesthesia is associated with several risks, thus increasing the overall risk of the liposuction procedure."
Complications can occur even with noninvasive procedures such as cryolipolysis, in which the unwanted fat is frozen to contour the body.3 Paradoxical adipose hyperplasia (PAH), which occurs in 1 in 4000 patients, is a rare adverse event. When it does occur, patients need to wait several months before the hyperplasia can be surgically repaired.3 While the device manufacturer reimburses patients for correcting the original procedure, surgical repair may be contraindicated in certain patients.3
"Dermatologists should recognize that PAH may occur more frequently than previously published numbers from the company [have indicated]," noted plastic surgeon Michael E. Kelly, MD, of Miami, Florida. "PAH appears to be more common in males of Hispanic background treated with the large applicator. We no longer treat those patients with the large applicator and the incidence of PAH has decreased in our practice."
Of all cosmetic procedures, gluteal aesthetic surgery has the highest mortality rate because of the complex anatomy and dense vasculature in the region.4 The estimated risk of death is 1 in 6214 to 1 in 2351 for gluteal fat grafting compared with other common cosmetic surgeries such as abdominoplasty, which has a fatality rate of 0.0137%, or 1 per 7314 procedures.4 In a 10-case study of gluteal cosmetic procedure mortality, Rapkiewicz and colleagues reported that autologous fat transfer with liposuction resulted in 8 of the 10 deaths.4
"The overall death rate for all cosmetic procedures by board certified surgeons in accredited operating rooms is 1:55,000," said Amy V. Rapkiewicz, MD, associate professor and vice chair of pathology at NYU Winthrop Hospital, in Mineola, New York.
"The death rate for abdominoplasty is 1:13,500, and for Brazilian butt lift about 1:2500. Collaboration and sharing of information are key such that based on the autopsy findings published around gluteal aesthetic surgery, a complete reevaluation and change of technique resulted."
Preventing Complications
Of liposuction fatalities, >23% are due to pulmonary thromboembolism.2 Yet, in a survey of the American Society of Plastic Surgeons, only 43.7% of clinicians employed prophylactic measures to ameliorate deep vein thrombosis (DVT) in liposuction.5 Worse still, only 60.8% of clinicians provided thrombosis prophylaxis when they scheduled multiple procedures during the same surgery. 5 The most precarious time is between the second week and 3 months after the procedure.2 As most liposuction procedures rate a Caprini score of >3, thereby making these patients high risk for pulmonary embolism, clinicians should strongly consider pharmacologic prophylaxis.2
Abdominal perforation and visceral damage can also lead to death.2 In patients who have had previous surgeries, hernias, diastasis, and obesity, a pre-procedure ultrasound may identify any abnormalities.2 To avoid sensitive anatomical sites, clinicians should maintain visual and tactile contact during the procedure and closely monitor patients postoperatively.2
The mishandling of fluids can lead to pulmonary edema and hypovolemia. Clinicians need to be aware that 70% of the fluid infiltrated during surgery is absorbed in the circulatory system.2
Fat embolism and its 2 main causes, fat embolism syndrome (FES) and macro fat embolism (FE), occur in 8.5% of all liposuction procedures.2 FES occurs in procedures with volumes of >900 mL, while trauma to medium or large-caliber vessels causes macro FE.2 Post-procedure hydration is essential for preventing FES.
"Although the complications may be due to deficiencies in the surgical or anesthetic technique, a large percentage of complications are due to inadequate patient selection," said plastic surgeon Lázaro Cárdenas Camarena, MD, from the Jalisco Institute of Reconstructive Surgery in Mexico. "Patients with significant overweight or obesity, important risk factors, are patients who should not undergo surgery."
During the initial consultation, patients should be instructed that liposuction is for body contouring, not weight loss.6 Moreover, patients need to adhere to pre- and postoperative instructions regarding their medications, rest, and hydration.2,6 Clinicians need to be cautious with patients who have diabetes, obesity, a history of heart disease, and venous thromboembolism. Patients who should be advised against liposuction include individuals who are pregnant, have severe mental illness (eg, body dysmorphic disorder or eating disorders), cardiac implants, and bleeding disorders.6
References
1. Al Dujaili Z, Karcher C, Henry M, Sadick N. Fat reduction: complications and management. J Am Acad Dermatol. 2018;79(2):197-205.
2. Cárdenas-Camarena L, Andrés Gerardo LP, Durán H, Bayter-Marin JE. Strategies for reducing fatal complications in liposuction. Plast Reconstr Surg Glob Open. 2017;5(10):e1539.
3. Kelly ME, Rodríguez-Feliz J, Torres C, Kelly E. Treatment of paradoxical adipose hyperplasia following cryolipolysis: a single-center experience. Plast Reconstr Surg. 2018;142(1):17e-22e.
4. Rapkiewicz AV, Kenerson K, Hutchins KD, Garavan F, Lew EO, Shuman MJ. Fatal complications of aesthetic techniques: the gluteal region [published online February 21, 2018]. J Forensic Sci. doi:10.1111/1556-4029.13761
5. Broughton G 2nd, Rios JL, Rohrich RJ, Brown SA. Deep venous thrombosis prophylaxis practice and treatment strategies among plastic surgeons: survey results. Plast Reconstr Surg. 2007;119(1):157-174.
6. Al Dujaili Z, Karcher C, Henry M, Sadick N. Fat reduction: pathophysiology and treatment strategies. J Am Acad Dermatol. 2018;79(2):183-195.