August 17, 2018
Acne in Skin of Color: Cautions for Chemical Peels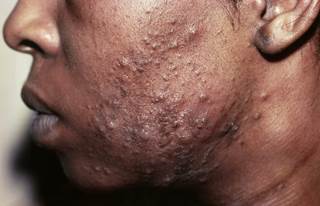 Recent studies suggest that with some caveats, patients with Fitzpatrick skin types IV to VI can achieve satisfactory results without serious adverse effects.
Because of their convenience and relatively safe profile, chemical peels have become popular among dermatologists treating patients with acne. As part of a multimodal strategy, clinicians can use peels to eliminate scarring and discoloration.1
With the simultaneous growth of minimally invasive procedures and populations with Fitzpatrick skin phototypes IV to VI, clinicians need to individualize chemical peel treatments for patients with acne who have darker skin.1 Superficial peels, which gently exfoliate the epidermis, are used for acne, melasma, postinflammatory hyperpigmentation (PIH), and pseudofolliculitis barbae in skin of color.1
Of the superficial peels, salicylic acid appears safest for skin of color.2 Other superficial peels, usually considered for melasma and dyschromia, include glycolic acid 20% to 50%, lactic acid 20% to 30%, and mandelic acid.2 Clinicians should be cautioned against using trichloroacetic acid (10%-30%) because the frost that appears toward the peak potency of the trichloroacetic acid peel increases the risk for dyspigmentation and scarring in patients with darker skin.3
"Salicylic acid peels are generally safe, especially in oily, acne-prone skin," explained dermatologist Hassan Galadari, MD, from the College of Medicine and Health Sciences, United Arab Emirates University, Al Ain. "The anti-inflammatory nature of the peel also tends to decrease the chances of it causing potential postprocedure pigmentation. Other peels that have become popular include mandelic acid and retinoid acid. Both are great in darker skin tones."
To determine the relative efficacy of peel formulations specifically for acne treatment, Chen and colleagues conducted a 12-study (N=387) systematic review.4 Because of the heterogeneity of the studies, the researchers could not definitively identify a superior formulation, but they did draw some conclusions: overall, chemical peels were effective in treating mild to moderate acne, and the salicylic acid and mandelic acid combination was significantly more efficacious than glycolic acid formulations in 1 of the studies. The researchers caution, however, that most of the studies recruited patients with skin types I to IV, which limits the generalizability of their study.3
Avoiding Complications With Patient and Formulation Selection
Although chemical peels for acne are considered safe, clinicians do need to be aware of potential complications, such as pruritus, erythema, PIH, milia, herpes simplex virus, and other infections. Using inappropriate formulations or deep skin peels can permanently alter patients with darker skin, causing hypertrophic scarring and depigmentation.1 Complications occur more often with deeper peels and in patients with darker skin.4
Patient selection and the chemical formulation of the peels are essential.3 For example, patients receiving exogenous hormones (eg, contraceptives) or photosensitizing drugs, those with active inflammation (eg, herpes simplex labialis), and those with a family history of keloids and hypertrophic scars should not receive chemical peels.3
Vemula and colleagues examined the safety of peels in patients (N=132 patients receiving 473 treatments; mean age, 40.3 years) with skin types III to VI with the agents 35% to 70% glycolic acid, 88% lactic acid, 40% mandelic acid, 10% to 30% salicylic acid, and 15% trichloroacetic acid for a host of dermatoses including acne.3 The overall complication rate was 3.8%, which was lower than in previous studies.3 Factors that may have led to complications included sun exposure, topical pretreatment, and failure to follow clinicians' instructions (eg, waxing or using tretinoin cream before procedure).4 Those who developed adverse effects tended to have underlying pigmentary dyschromias.4
For Best Results, Plan the Peel
Patients need to have their expectations managed well before the peeling procedure.1 In patients of color, clinicians need to prepare the skin 2 to 4 weeks before the peel by advising patients to use sunblock effective against both ultraviolet A and B light, as well as priming the procedural site with 2% to 5% hydroquinone to reduce the risk for PIH.1 Patients need to apply emollients after the procedure and avoid unnecessary sunlight. A week after the procedure, patients should restart their hydroquinone or topical retinoid therapy.1
Concomitant Isotretinoin Use Demystified
Although clinicians previously had avoided or delayed chemical peels in patients on systemic isotretinoin therapy for at least 6 months because of the potential for scarring, keloid formation, and dyspigmentation, a 32-study systematic review (N=1485 procedures) found that there was insufficient evidence to continue the practice.5,6 Despite the fact that a few cases led the pharmaceutical manufacturer to warn about scarring with isotretinoin, clinicians continued the practice, as well as extrapolated the warning to all cosmetic procedures, for decades, without evidence to support the practice.5,7
"Potential risks of this procedure, specifically PIH and keloid formation, present regardless of isotretinoin use, must be thoroughly reviewed with the patient and mitigated with appropriate patient selection (great caution in any patient with history of keloid formation), appropriate selection of peeling agent and correct application (superficial peels performed by board-certified physicians), strict pre- and postprocedural photoprotection with both a hat and high SPF mineral-based sunscreen, and even postprocedural hydroquinone and low-potency topical steroids," advised lead author and dermatologist Leah Spring, DO, from the Naval Hospital in Camp Lejeune, North Carolina.
Venkataram Mysore, MD, from the Centre for Advanced Dermatology and Postgraduate Training in Bengaluru, India, said that concomitant systemic treatment with isotretinoin, even in patients with darker skin, should not cause complications, "as long as we use superficial peels and prime patients well. Deeper peels are never safe and should not be used."
References
Salam A, Dadzie OE, Galadari H. Chemical peeling in ethnic skin: an update. Br J Dermatol. 2013;(169 Suppl 3):82-90.
Vemula S, Maymone MBC, Secemsky EA, et al. Assessing the safety of superficial chemical peels in darker skin: A retrospective study [published online March 5, 2018]. J Am Acad Dermatol. doi: 10.1016/j.jaad.2018.02.064
Been MJ, Mangat DS. Laser and face peel procedures in non-Caucasians. Facial Plast Surg Clin North Am. 2014;22(3):447-452.
Chen X, Wang S, Yang M, Li L. Chemical peels for acne vulgaris: a systematic review of randomised controlled trials. BMJ Open. 2018;8(4):e019607.
Spring LK, Krakowski AC, Alam M, et al. Isotretinoin and timing of procedural interventions: a systematic review with consensus recommendations. JAMA Dermatol. 2017;153(8):802-809.
Accutane (isotretinoin) [prescribing information]. Nutley, NJ: Roche Pharmaceuticals; 2008.
Mysore V, Mahadevappa OH, Barua S, et al. Standard guidelines of care: performing procedures in patients on or recently administered with isotretinoin. J Cutan Aesthet Surg. 2017;10(4):186-194.