January 05, 2018
Lasting Benefits for Scleroderma With Stem-Cell Transplantation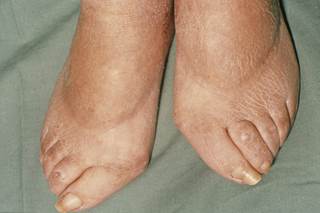 While overall survival was improved, it comes at the cost of increased toxicity.
HealthDay News -- For patients with scleroderma, myeloablative CD34+ selected autologous hematopoietic stem-cell transplantation is associated with lasting benefits, according to a study published in the New England Journal of Medicine.
Keith M. Sullivan, MD, from the Duke University Medical Center in Durham, NC, and colleagues randomized adults with severe scleroderma to undergo myeloablative autologous stem-cell transplantation or receive cyclophosphamide (36 and 39 participants, respectively).
The researchers found that at 54 months the global rank composite scores showed the superiority of transplantation (67 and 33% of 1404 pairwise comparisons favored transplantation and cyclophosphamide, respectively; P =.01) in the intention-to-treat population. The rate of event-free survival at 54 months was 79 and 50% in the transplantation and cyclophosphamide groups, respectively, in the per-protocol population (P =.02). Transplantation was also favored in Kaplan-Meier estimates of event-free survival (74 vs 47%; P =.03) and overall survival (86 vs 51%; P =.02) at 72 months. By 54 months, 9 and 44% of patients in the transplantation and cyclophosphamide groups, respectively, had initiated disease-modifying antirheumatic drugs (P =.001). Treatment-related mortality was 3 and 6% at 54 and 72 months, respectively, in the transplantation group versus 0% in the cyclophosphamide group.
"Myeloablative autologous hematopoietic stem-cell transplantation achieved long-term benefits in patients with scleroderma, including improved event-free and overall survival, at a cost of increased expected toxicity," the authors wrote.
Disclosures: One author disclosed financial ties to Novartis.
Reference
Sullivan KM, Goldmuntz EA, Keyes-elstein L, et al. Myeloablative autologous stem-cell transplantation for severe scleroderma. N Engl J Med. 2018;378(1):35-47.