January 12, 2018
Advanced Melanoma May Benefit From Encorafenib, Binimetinib Combination
This article originally appeared
here.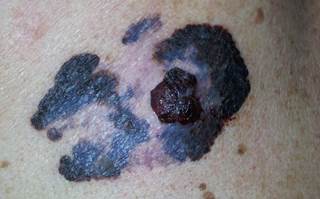 One benefit of encorafenib plus binimetinib is that it appears to be better tolerated than BRAF inhibitor monotherapy.
The US Food and Drug Administration (FDA) recently accepted a New Drug Application to support the combination of the MEK inhibitor, binimetinib, and the BRAF inhibitor, encorafenib, for treating patients with BRAF-mutated unresectable or metastatic melanoma.1
Encorafenib is a novel oral small molecular kinase inhibitor designed to target the mutant BRAF kinase. The BRAF kinase is a member of the RAF/MEK/ERK pathway, which has a prominent role in several key functions of melanoma, including growth, proliferation, and survival.
Results from a phase 3 trial evaluating the drug combination showed a more than doubled progression-free survival (PFS) among patients with advanced melanoma compared with vemurafenib monotherapy.2
"The use of combination approaches to treat patients with melanoma, as well as other cancers, is no longer a just a wish for the future but is today a clinical reality with a rapidly growing evidence-base," Paolo A. Ascierto, MD, of the Istituto Nazionale per lo Studio e la Cura dei Tumori in Naples, Italy, and colleagues, wrote in the Journal of Translational Medicine.3
The cobimetinib plus vemurafenib combination was, for example, approved by the FDA to treat advanced melanoma with BRAFV600E or V600K mutations; dabrafenib plus trametinib was recently granted Priority Review by the FDA for patients with melanoma.4,5
Phase 1b/2
The phase 1b/2 trial of encorafenib and binimetinib (ClinicalTrials.gov Identifier: NCT01543698) included 55 patients with BRAF-mutated melanoma but without prior BRAF inhibitor treatment. Thirteen patients were included in the phase 1 trial and 42 in the phase 2 trial.6
The confirmed response rate was 78% at a 400/450 mg dose and 72% at a 600 mg dose. For phase 1b and 2 combined, the median PFS was 11.3 months.
Common adverse events at the 600 mg dose were nausea (54%), diarrhea (44%), fatigue and arthralgia (33% each), vomiting, pyrexia, and increased aspartate transaminase (AST; 31% each). At the lower dose, common adverse events were nausea and fatigue (44% each), diarrhea, vomiting, and increased AST (33% each), and arthralgia and pyrexia (11% each).
Grade 3/4 adverse events occurred in 64% of patients treated with 600 mg and 67% of those treated with 400 or 450 mg encorafenib.
Encorafenib has also been tested as a single agent in metastatic BRAF-mutated melanoma.7 In a phase 1, dose-escalation expansion study, 54 adults with advanced or metastatic BRAF-mutant melanoma were enrolled. Dose-limited toxicities occurred in 7 patients in the dose-determining set. A dose of 300 mg was determined to be the recommended phase 2 dose.
Patients with disease naive to BRAF inhibitors had an overall response rate of 60% and a median PFS of 12.4 months. In those with prior BRAF inhibitor exposure, the overall response rate was 22% and the median PFS was 1.9 months.
In the expansion phase, the most common all-cause adverse events were nausea, myalgia, and palmar-plantar erythrodysesthesia.
Phase 3
Efficacy
The FDA New Drug Application was submitted based on top-line results from the phase 3 COLUMBUS (ClinicalTrials.gov Identifier: NCT01909453) study of combination binimetinib and encorafenib.
COLUMBUS had 2 parts: in part 1, 577 patients were randomly assigned to receive 45 mg binimetinib plus 450 mg encorafenib, 300 mg of encorafenib alone, or 960 mg of vemurafenib alone. The primary endpoint was PFS.
The median PFS for the combination was more than doubled compared with vemurafenib alone (14.9 vs 7.3 months; hazard ratio, 0.54; 95% CI: 0.41-0.71; P < .001).
There was, however, no statistically significant difference in PFS between the combination and encorafenib monotherapy.
In part 2 of COLUMBUS, 344 patients were randomly assigned 3:1 to 45 mg binimetinib plus 300 mg encorafenib or to encorafenib alone. The median PFS for the combination was 12.9 months compared with 9.2 months for encorafenib monotherapy (hazard ratio, 0.77; 95% CI: 0.61-0.97; P = .029).
Safety
One benefit of encorafenib plus binimetinib is, according to a Q&A with Keith T. Flaherty, MD, a professor of medicine at Harvard Medical School in Cambridge, Massachusetts, "that it appears to be better tolerated than BRAF inhibitor monotherapy. This is particularly important because patients take this therapy for many months."8
In part 1 of COLUMBUS, treatment with combination 45 mg binimetinib and 450 mg encorafenib was generally well-tolerated. The most common grade 3/4 adverse events were increased gamma-glutamyltransferase, increase blood creatine phosphokinase, and hypertension. Patients assigned the combination also experienced rash (23%), pyrexia (18%), retinal pigment epithelial detachment (13%), and photosensitivity (5%). Safety in part 2 was similar.
The combination may be an attractive option for some, but further research is needed to target the therapy effectively to particular patients.
References